Moderator: Bootsy
Nurse, I think I need some assistance
Posts: 14748
Joined: Fri May 07, 2004 3:12 pm
Location: Cornwall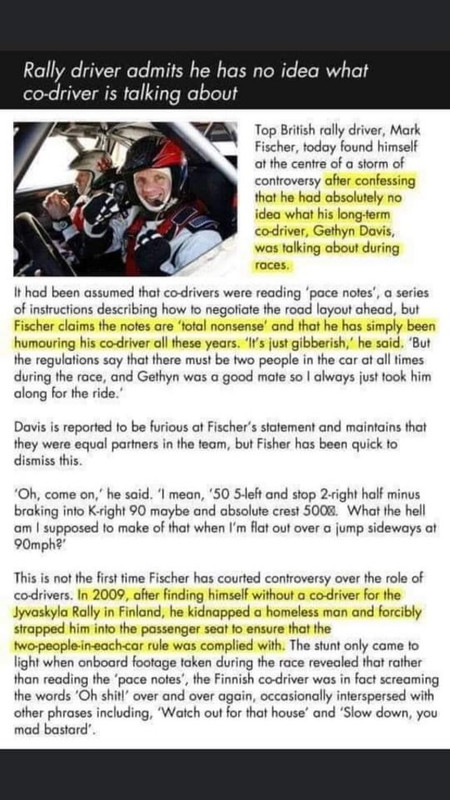 Last edited by
KS
on Tue Jan 03, 2023 10:12 pm, edited 1 time in total.
Nurse, I think I need some assistance
Posts: 8522
Joined: Sat Apr 23, 2005 9:08 pm
Location: Nottingham, UK
The simple things you see are all complicated
I look pretty young but I'm just backdated yeah
Superb! Certainly true of my co-driver most of the time.
The force is strong in this one ......
DDK forever
Posts: 534
Joined: Sun Feb 29, 2004 10:10 am
As a co-driver the best instructions I use are 'Gwon, gwon, gwon, keep 'er lit, and flat, flat, flat' and then let the driver sort it out!
When they miss the wall say 'well held'

All the drivers need their egos massaged!
Brendan
1969 911T
2007 2.7 Boxster
Pray, hope and don't worry - Padre Pio
DDK forever
Posts: 534
Joined: Sun Feb 29, 2004 10:10 am
Brendan, typical driver, they just don't listen!!
Navigators, better known as the Sack of Spuds.
1972 2.4S, since 1988
993 RSR Cup
73 RS Rep Race
2018 GT3RS Lizard
86 Guards Red Carrera 3.2
87 UR quattro
89 Guards Red 944 turbo
05 Guards Red 987 Boxster S
As does this golden oldie
https://youtu.be/D9-voINFkCg
James
1973 911 2.4S
1993 964 C2
2010 987 Spyder
1973 MGB Roadster
Its not how fast you go, but how you go fast
I'd forgotten about that one. You're breaking the car Sammy …'Shutup'
Some great clips on this one too.
I not sure who's the bravest the driver or the co drivers?
https://youtu.be/0uJF-hz0PV0
86 Guards Red Carrera 3.2
87 UR quattro
89 Guards Red 944 turbo
05 Guards Red 987 Boxster S
DDK 1st, 2nd and 3rd for me!
Posts: 2420
Joined: Tue Mar 23, 2010 1:35 pm
Location: West Cork,Ireland
All nuts! Our regularity rallying in Tango 914 isn't like that but still bloody hard work!
C
Clive
West Cork, Ireland

RGruppe #814
1978 SC/1984 3.2 Outlaw -Jaffa 911
1973 914 - on Webers - historic rally car- Tango 914
1977 924 2.0 on Webers street legal race car - Martini 924
Flachbau -in progress