Moderator: Miggs
Nurse, I think I need some assistance
Posts: 7490
Joined: Sat Aug 04, 2007 3:05 pm
Location: Harrow Gate.
Contact:
You just have too many image tags.
Remove an
from the end and you get....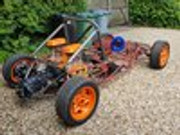 DDK 1st, 2nd and 3rd for me!
Posts: 2470
Joined: Fri Apr 18, 2008 5:58 pm
Location: Sunny Somerset, just above the water....
Good to see it's coming together, Brooksey! Can you try to post a bigger photo please?

Cheers!
JW
Life's a single timed run with no practice....
1970 914/6 2.4E/Webers
1970 VW Beetle project
1972 911 Hillclimber 3.2 MFI. Part of the family for 30+ years!
2006 Hymer Merc Starline 630
2000 T4 Van LPG
2000 Golf V5 Estate GT (Greyhound Transport!)