Right, went through the IVA begining of spring and did say i'd do a right-up but have'nt till now. I know a few of you are getting close so l hope this will help you through the IVA. Any questions fire away and i'll do my best to help you out, even the form filling.
Remember just keep telling yourself the tester is your best mate for the day, he can make things harder if you start jumping up and down on his head cos you dont agree....
Waiting at dusk for the doors to open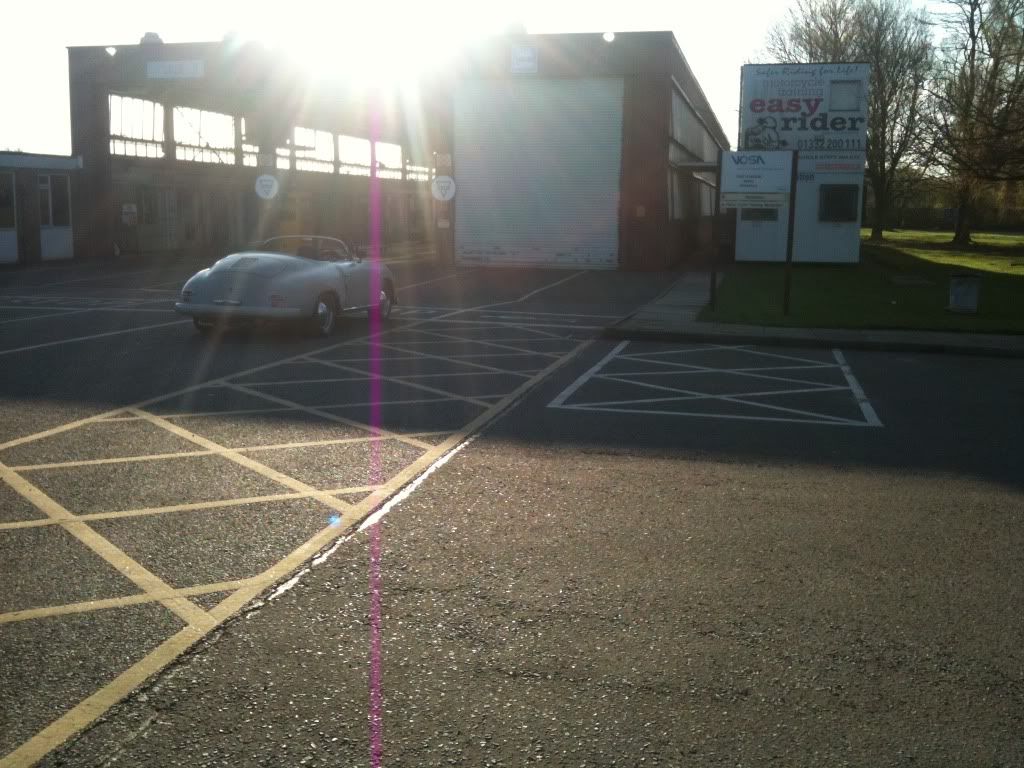 Test starts with the speedo Calibration. If you have bought new Dials you will need a Calibration certificate from your supplier. Reason being is the test centre might not have the correct equipment to test so its up to you to prove or ask the test centre prior to test to see if they have the correct equipment to test calibration. Could save you the retest fee £90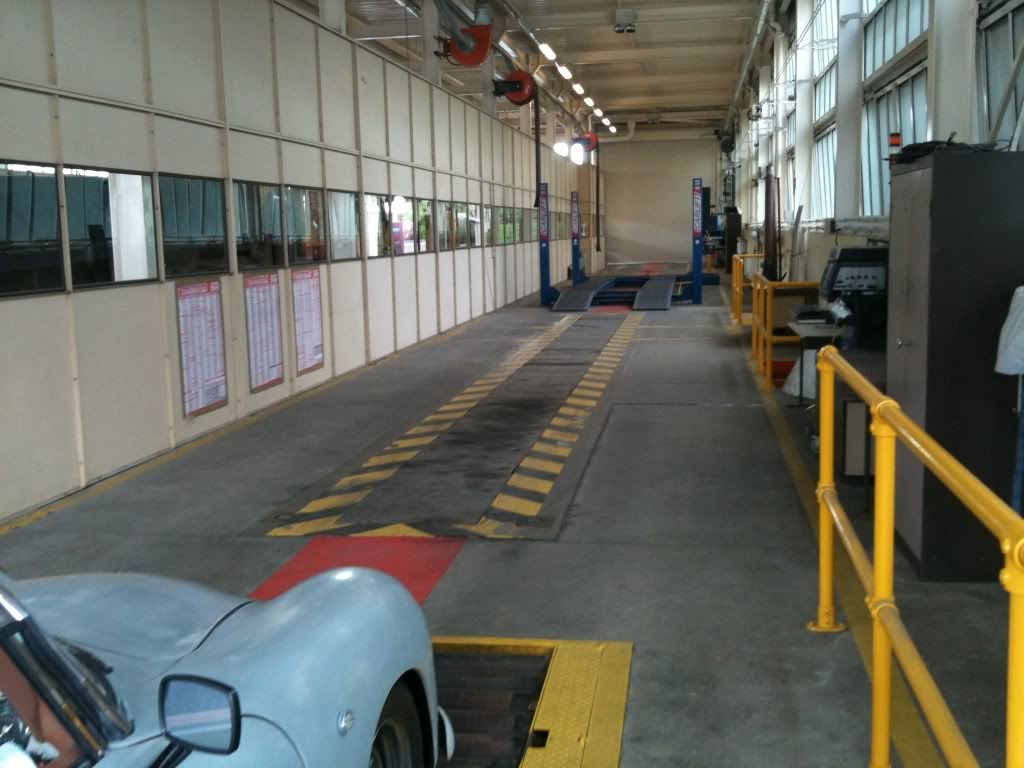 Various tests will be made down the building to assess your build. Here are some things that are not on the list below.
Cover the rear reflector edges, l used an old bike inner tube and used it like an elastic band to stretch over.
Headlight mount bracket, super glue a piece of trim around the edge.
Rear fog light, fit above the bumper in order to be above the minimum height from memory is 250mm from BOTTOM edge of fog light. My Light was supposed to be IVA compatable but did fail, needed some trim around the edge of the body to comply. So dont take things for granted that if you buy somthing IVA compatable, it is. Could cost £90.
Hazard light & Brake test light must be visable from driver position. Dont tuck under dash as l did first time round and had to move forward as in picture otherwise will be a fail. If you use a hazard switch without a light you must have 2 seperate indicator lights on the dash(clocks). Otherwise you can get away with 1 on the dash (clocks) as l did. Remember you can change all this once its passed.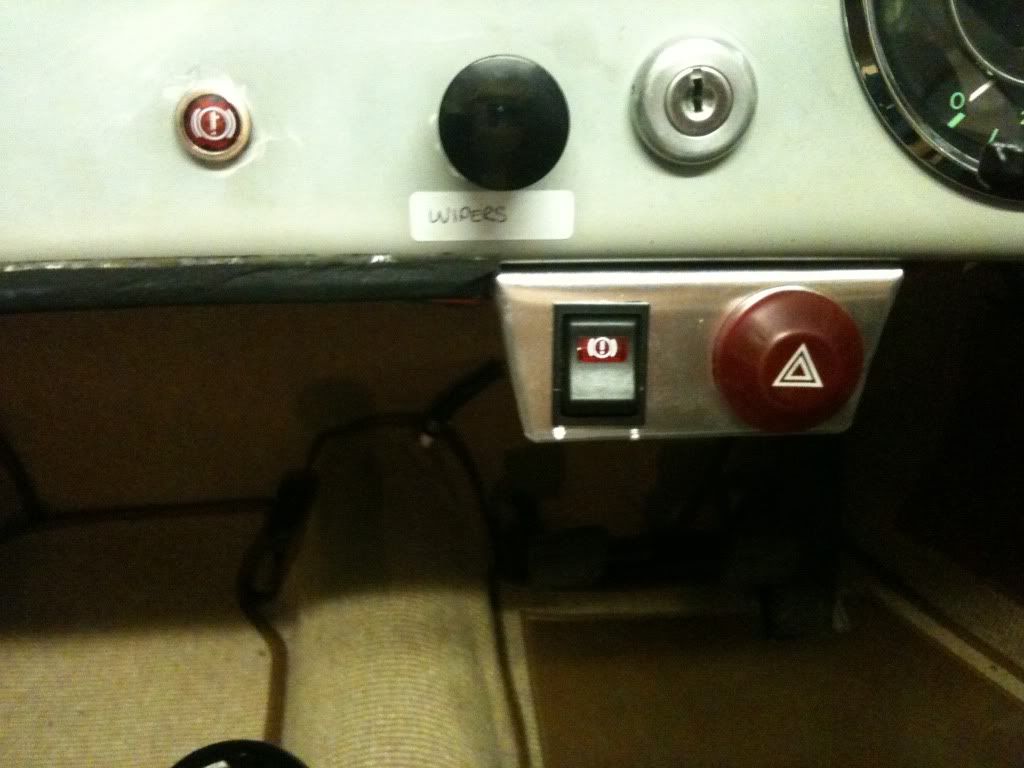 Must have a side indicator on front wing.
Rear view mirror must have rubber trim around edge.
Brake fluid must have a sticker near by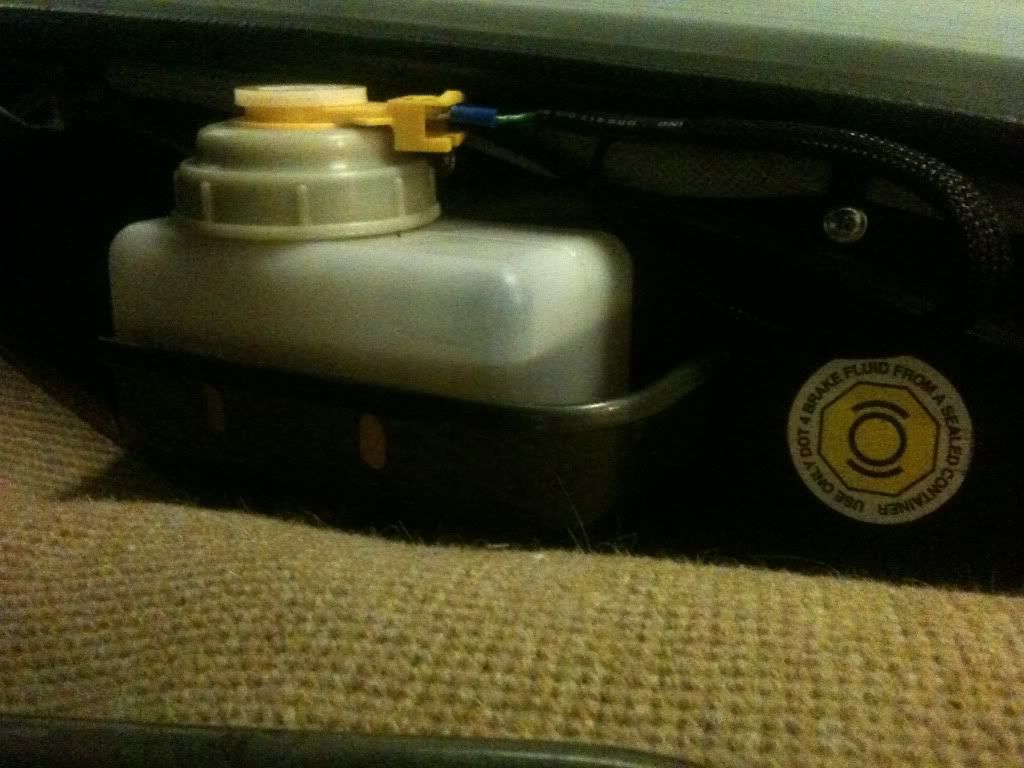 Windscreen wiper must park to left if RHD as picture, GER if your is a Left Hooker have yours opposite to picture. If you dont fit the Windscreen this will not apply nor the demister.
Handbrake lever may need to have a sleeve over handle to increase the end radius to pass. if you dont it may cost you £90.
list of recomendations from Chesil to get through the IVA.
A list of DOES
1, If no steering lock, then will need to fit an immobiliser by a qualified fitter. Will need to show certificate from govening body at the time of test. Note this is not currently required.
2, H.T leads to have suppression markings.
3, If there is no permanent hood, more of the interior wil fall into the exteria zone.
4, Fuel cap now only needs to be locked by a key and not tethered.
5, Fuel tank filler to be external. Internal fill not accepted. However, for the kit builders already with an internal filler, acceptance for 12 months expiring 29th april 2010.
6, Fuel tank to be earthed witha seperate lead other than the fuel gauge earth.
7, Pedals are still exempt from sharpe edge requirement.
8, Handbrake may need cover over the cable ends, may appear sharp throught he gaiter.
9, Fuel & brake hoses to show markings.
10, Reflectors to be vertical and at right angles to the axis of the car. If using the oringinal square reflectors, then rubber to be fitted around the edge.
11, Fog light to be E & F marked. Switch with light to be fitted on or under dash.
12, Demister-either heated front screen or to have independent warm air blower( no longer from engine). Heating for the passenger compartment NOT a requirement.
13, Headlight fixing tab to have rubber around the edge.
14, Teardrop rear lights may need internal adjustment to stop light bleeding from the brake-light/ side-lights section to indicator section.
15, Washer jets, passenger jet ok, covered by wiper. Drivers side needs to be removed and a plastic tube with nozzle to be fitted to the wiper OR just use IVA compliant jets.
16, Mirrors must break away and have good rearward vision.
17, Interior mirror must have rubber surround.
18, Speedo cannot be checked with test centre equipment. Chesil can supply proof of calibration with tyres sizes 195/60/15.
19, Brake fluid reservoir must have a low level warning switch and a label to identify the type of fluid used Dot4. Labels & reservoirs available from Chesil.
20, Warning light and est switch to be fitted on/under dash, visable from drivers seat.
21, Fit high backed seats, or seats with headrests only (bucket seats not accepted).
22, Ensure bolt heads under dash, fixing bonnet hinge are covered.
23, Spare wheel, if fitted, will be termed a space saver as it's not the same size as the road wheels and will need 80kph/50mph sticker on the wheel.
24, Ensure all pipes and cables are well clipped. Not all with cable ties.
25, Chassis number to be 17 characters long and stamped on the r/h side fo chassis or permantently fixed (welded not riveted).
26, Chassis plate must be fixed in a visible position with the manufacturers details and must have chassis number stamped on.
27, Make sure the steering self-centres at 10mph.
28, Age of engine proof needs to be taken to the test centre. This can be either oringinal engines V5, official letter from VW confirming age or letter from the VW owners club confirming age.
29, Remember to fill fuel tank full of fuel fro the test.
30, Exhaust level is 99dba. Stainless steel exhuast just passes. If you need it to be quieter it may be possible to fit the oringinal beetle tail pipes.
31, Vehicle must be in a road worthy condition.
32, If re-tested, make changes to parts required only.Do not change anything else until you have the certificate in your grubby mits. Examiners can fail it if alterations are seen that do not comply.
A list of DO NOT'S;
1, DO NOT FIT - Bonnet handle.
2, DO NOT FIT - Dash grab handle or the door pull handles.
3, DO NOT FIT - Woodrim steering wheel, fit old beetle 1302/03 type.
4, DO NOT FIT- Outside hood latch blocks, centre block is fine behind mirror.
5, DO NOT FIT - Hood.
6, DO NOT FIT - Heater slides-, leave carpet uncut ie cover oulet.
7, DO NOT FIT - Back-seat, its just a parcel shelf.
8, DO NOT FIT - Switches beyond the 127mm (5") line from edge of steering wheel.
9, Also been told not to install the wind-up windows mech's or handles and glas runners. Temp fill door top gap with ????. I left mine in and passed.
This is not necessarily all. It does seem to vary from test centre to another. Typically, the bonnet handle sometimes passes and sometimes not, as do the internal door and wind-up window handles.
Well, hope this puts a few of you in the right direction for a pass.
Regards